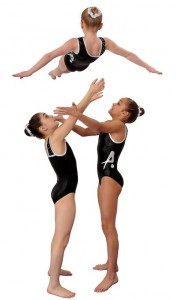 To paint a visual image of Acrobatic Gymnastics, or ACRO as it is commonly called, you could say it is a combination of artistic gymnastics, pairs figure skating, and Cirque du Soleil acrobatics and choreography. The competitors tell a story with their performances, while capturing the audience's attention with thrilling dynamic and graceful balance skills.
To expand on that visual description, ACRO is a partner sport. Partners in pairs or groups of three or four perform acrobatic skills like balance holds, hand balancing, pyramids, and toss and catches. Routines also include tumbling elements and are set to music with unique choreography and synchronization among partners (excerpt from USAG).
Free Trial Class
We would love to help you find the best class for your child by offering you a free trial class.  Please complete the form below and someone from our team will connect with you.